Blake & Paige
Talk

0
1,002pages on
this wiki
Blake & Paige
Relationship
Brother/Sister
Teammates
Blake Mycoskie
Paige Mycoskie


---

Season
2
Place
3rd
Age Average
23
Average Placing
3.69

---
Blake Mycoskie and Paige Mycoskie are a Brother/Sister team on the 2nd season of The Amazing Race.
Age: 25
Hometown: Nashville, Tennessee
Paige Wynn
Edit
Age: 21
Hometown: Arlington, Texas
CBS Biography
Edit
Brother and sister Blake and Paige have quite a bit of experience traveling together, mainly on family vacations. Both agree that those times were fun, because they were "always entertaining each other and making each other laugh." They disagree, though, on the downside of those vacations. Whereas Blake claims that "the worst was Paige always getting special treatment, since she is 'Daddy's Girl'"; Paige insists that "the worst was Blake doing everything possible to keep me away from any guys I met."
The pair decided to team up for THE AMAZING RACE because they both love adventure but have not traveled much outside the U.S. They were separated all through college and saw this as a great way to reunite and do what they both love to do: compete. Blake thinks that participating in THE AMAZING RACE will enhance their relationship and provide them with stories to tell their friends for years to come. His only concern is that they both like to be in control of the situation. Paige worries that they'll drive each other crazy, but also has faith that their love and friendship will get them through the toughest times.
Leg 1: 4th
Leg 2: 9th
Leg 3: 5th
Leg 4: 4th
Leg 5: 4th
Leg 6: 3rd
Leg 7: 5th
Leg 8: 5th (Non-Elimination)
Leg 9: 2nd
Leg 10: 1st (Fast Forward)
Leg 11: 2nd
Leg 12: 1st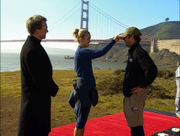 Memorable Moments
Edit
Settled for 3rd when they got lost searching for the Municipal Pier.
Franchise
Edit
First brother/sister team.
Youngest male/female team to finish in 3rd, 23 (tied with Brandon & Nicole).
Youngest team to win a leg and come in 3rd, 23 (tied with Brandon & Nicole).
First 3rd place team to make it across the finish mat.
First male/female team to finish in 3rd.
Youngest team, 23.
Youngest team in the Final Three, 23.
Lowest average placing team in the final three, 3.69
External links
Edit