Black Family
Talk

0
1,147pages on
this wiki
Black Family
Relationship
Dad, Mom and Kids
Teammates
Reggie Black
Kimberly Black

Kenneth Black
Austin Black

---

Season
Family Edition
Place
10th
Average Age
25.25
Average Placing
10

---

---
Reggie Black, Kimberly Black, Kenneth Black, and Austin Black are a team of Dad, Mom and Kids on the family edition of The Amazing Race.
Age: 42
Hometown: Woodbridge, Virginia
Age: 40
Hometown: Woodbridge, Virginia
Age: 11
Hometown: Woodbridge, Virginia
Age: 8
Hometown: Woodbridge, Virginia
CBS Biography
Edit
The Black family is from Woodbridge, Virginia. Reggie and Kimberly, who met in undergraduate school, have been married for over 17 years. Their two sons, Kenneth, 11, and Austin, 8, round out this team of four who compete competitively in Tae Kwon Do tournaments.
Reggie, 42, is the team leader. He is a high school teacher who describes himself as calm yet competitive. Reggie graduated from Norfolk State University with a degree in mathematics.
Kimberly, 40, is a fifth grade teacher who considers herself to be witty and determined. She earned her Masters in Education from Marymount University.
Kenneth is entering sixth grade. His favorite hobbies are soccer and Tae Kwon Do. Kenneth earned his black belt in Tae Kwon Do over 2 years ago.
At 8 years old, Austin is the youngest contestant ever to compete in THE AMAZING RACE. He will be in fourth grade and has an advanced brown belt in Tae Kwon Do. Austin plans on earning his black belt within the next few months.
The Black Family is the epitome of dedication and heart. Despite their limited traveling experience, they are determined to show they have what it takes to compete on THE AMAZING RACE.
Family Edition
Edit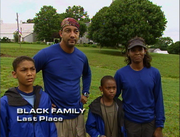 Leg 1: 10th (Eliminated)

Arrived at the Detour in 7th place.
Build It
They were moving slow building the watermill, allowing three teams behind them pass them and leaving them behind with the Linzes still doing the buggy.
While getting water, Austin nearly fell into the creek, prompting him to call for help.
Reggie pulled him out of the creek.
Finished the Build It in 9th place.
Left Brubaker Family Farm just seconds before the Linzes finally completed Buggy It.
Were ahead of the Linzes in a car race to the pit stop.
Discovered the Linzes stopped following them when they took a shortcut.
: Arrived last, and were eliminated.
Memorable Moments
Edit
Eliminated from the race because they took too long building a watermill at the Detour and were passed by the Linzes who took a shortcut in a car race to the pit stop.
Records/Statistics
Edit
Franchise
Edit
Very first four-person team to be eliminated.
Austin (Age 8) is the youngest contestant to participate in the race (Adele of Tom & Adele, Jacob of Constantine & Jacob  and Romy of Romy & Coral are all the youngest contestants (all aged 18) are in standard format).
First team to be eliminated in the United States of America.
Family Edition
Edit
Youngest team who didn't earn a spot in the final three, 25.25
Lowest average placing team, 10.
Lowest average placing team who didn't earn a spot in the final three, 10.
First team to be eliminated.
External links
Edit
Want to play Survivor yourself?

Join our version, Survivor: Wikia - Sardinia!