BJ & Tyler
Team Profile
Members
Brian Jeffrey "BJ" Averell
Tyler MacNiven
Age
26 (BJ)
25 (Tyler)
Hometown
Los Angeles, CA (BJ)
San Francisco, CA (Tyler)
Relation
Best friends
Occupation
Online Tutor (BJ)
Filmmaker (Tyler)

---

Legs Competed
12
Placement
1st
Gallery
Link
Brian Jeffrey "BJ" Averell and Tyler MacNiven are a team of Best Friends on the 9th season of The Amazing Race. They are commonly known as "The Hippies" and are one of the most positive and fun teams to ever run the race.
BJ & Tyler are bohemian best buds who first met four years ago during the Semester at Sea program, where they shared the experience of sailing around the world. One of their most memorable moments was starting a dance party in the streets of downtown Guilin, China, which turned into a mass gathering of hundreds of Chinese men. They have been friends ever since, whether bouncing on trampolines at Burning Man or spontaneously swimming in the San Francisco Bay.
BJ is a graduate of Harvard University, while Tyler graduated from UC Santa Cruz after completing two semesters abroad—one in Hungary, the other in South Africa. Both have traveled the world extensively and speak several languages including Spanish and Japanese.
Both BJ and Tyler share a love of adventure, travel, and good times. After graduating from college, BJ moved to California to pursue surfing, karate and frisbee. Meanwhile, Tyler fell in love with a Japanese girl and decided to impress her by walking the 2000-mile length of Japan.
Their primary motivation for taking part in THE AMAZING RACE is to share in the adventure of racing around the world, meeting new people and, of course, winning $1 million.
The Amazing Race 9
Edit
Race History
Edit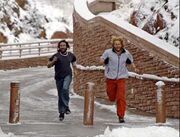 Post-Race
Edit
References
Edit
---