Ann & Diane
Talk

0
1,002pages on
this wiki
Ann & Diane
Relationship
Dancing Mums
Teammates
Ann Tan
Diane Douglas


---

Season
Asia 2
Place
4th
Age Average
36.5
Average Placing
3.73

---
Ann Tan and Diane Douglas are a team of Dancing Mums on the 2nd season of The Amazing Race Asia.
Age: 40
Hometown: Malaysia
Age: 33
Hometown: Malaysia
AXN Biography
Edit
You can call them the desperate housewives of Malaysia - housewives who are desperate for new challenges and adventure that is. And what better way to discover excitement than to pack their bags and take off on The Amazing Race Asia. These two longtime dancing buddies are trying to prove that after family commitments, everything else they undertake should be as easy as performing hip hop or funk jazz. Having met through their common love for dancing and physical activities, Ann, 40, and the mother of three children, ages 16, 13 and 2, together with Diane, 33, mother of a 10 and 2 year old are more than prepared to make the ultimate sacrifice for the Race. And that is to dump their husbands and children aside to realize their dream of taking part in The Amazing Race Asia. In fact, as Diane puts it jokingly, this is not something they are just merely willing to do. "We are also looking forward to leaving our husbands and children for a month to win the race," she says in a half jesting, half serious manner. "We have given so much time to our families, this is something we want to do for ourselves." And just because they are mothers, and thus, a little older than the competition does not mean that it is any sort of a disadvantage. Just the opposite, they want to show everyone that there is excitement for mothers, and you just have to search, like they did with taking part. Complimenting her teammate, Ann adds, "We want to encourage all mothers that their lives do not end after the birth of their children, because we are really sexy moms on the go!" Aside from dancing, both women are also outdoor fanatics, and entrepreneurs. Both have businesses of their own – Ann runs a children's activity studio cum café, while Diane handles the marketing for an online t-shirt shop which she set up with her sister-in law. And in their leisure time, both competent moms enjoy organizing the occasional playgroups for their children and going swimming or clubbing. But they work best when they are on the dance floor, strutting their stuff for all to see. In fact, it was the more excitable Diane who convinced her more business-minded friend to drop everything to take part in the Race. "When she told me about it, I thought why not?" recalls Ann. "We are always looking for new challenges. I know Diane and she is totally reliable and she has never let me down, ever. If Diane can do it, I can put my life in her hands." She is just as confident of her own abilities as she is of her teammate's. "I am rather fit and fairly intelligent and used my mental and physical abilities to focus on each challenge as best as I could and of course, working well with my teammate."
Asia Season 2
Edit
Leg 1: 3rd
Leg 2: 3rd
Leg 3: 3rd
Leg 4: 4th
Leg 5: 6th
Leg 6: 4th
Leg 7: 3rd
Leg 8: 3rd
Leg 9: 4th
Leg 10: 4th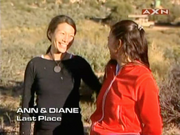 Leg 11: 4th (Eliminated)

Ann entered the pit area after seven minutes and incurred a 5-minute penalty.
Memorable Moments
Edit
Eliminated because they took a flight to Cape Town via London two hours behind the other teams.
Franchise
Edit
Highest average placing female team who were the 7th team to be eliminated without winning any leg, 3.73
Highest average placing team who never won a leg, 3.73
Oldest female team, 36.5
Highest finish by a team without winning any leg, 4th place.
Highest average placing team without winning any leg, 3.73
External links
Edit