Anita & Arthur
Talk

0
1,002pages on
this wiki
Anita & Arthur
Relationship
Married Beekeepers
Teammates
Anita Jones
Arthur Jones


---

Season
13
Place
11th
Age Average
62
Average Placing
11

---
Anita Jones and Arthur Jones are a team of Married Beekeepers on the 13th season of The Amazing Race.
Age: 63
Hometown: Eugene, Oregon
Age: 61
Hometown: Eugene, Oregon
CBS Biography
Edit
Anita and Arthur can't wait to make the Race their next big adventure. This energetic couple is open hearted and free spirited. They make and sell their own honey and recently purchased an organic blueberry farm. They have known each other for over 26 years and have been married for almost 14 years. Their blended family and children are the most important part of their lives.
However, don't be fooled by their snowy white hair – they are no strangers to hard work. Living on a farm, they are responsible for maintaining their land, chopping wood and braving the hazardous conditions of beekeeping.
Anita describes herself as optimistic, enthusiastic and compassionate. She is running this Race in hopes of gaining insight to people and places from all corners of the world while traveling side by side with her husband. Her biggest pet peeve about her husband is that he sometimes over-analyzes situations…Anita believes simple can be so much better.
Arthur identifies himself as a problem fixer and hopes to gain a better understanding of himself and his partner. When asked how he and his teammate are most alike—Arthur says that he and his wife share a basic belief in the goodness of people.
This nature-loving couple is still young at heart, and they are ready to experience the world.
Season 13
Edit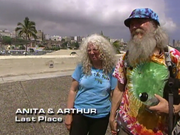 Memorable Moments
Edit
Eliminated because they struggled to keep up.
Franchise
Edit
Oldest team to be the first team to be eliminated from the race, 62.
Oldest team to finish in 11th place, 62.
Lowest average placing team with an age average of over 60, 11.
Season 13
Edit
Oldest team, 62.
Oldest team who did not earn a spot in the final three, 62.
Lowest average placing team, 11.
Lowest average placing team who didn't earn a spot in the final three, 11.
First team to be eliminated.
External links
Edit