Aiello Family
Talk

0
1,003pages on
this wiki
Aiello Family
Relationship
Father and Sons-In-Law
Teammates
Tony Aiello
Kevin Kempskie

Matt Hanson
David Alverson

---

Season
Family Edition
Place
8th
Age Average
36.25
Average Placing
7

---
Tony Aiello, Kevin Kempskie, Matt Hanson, and David Alverson are a team of Father and Sons-In-Law on the family edition of The Amazing Race.
Age: 57
Hometown: Mansfield, Massachusetts
Age: 31
Hometown: Mansfield, Massachusetts
Age: 31
Hometown: Mansfield, Massachusetts
Age: 26
Hometown: Mansfield, Massachusetts
CBS Biography
Edit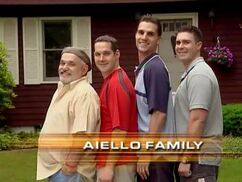 When Tony Aiello first met the men who would eventually capture the hearts of his three beloved daughters, he never thought he'd end up racing around the world with them. "Forget about it," he'd quip.
Compelled by a gnawing curiosity about how his three sons-in-law would handle such a competition, Tony, leads the unlikely foursome from Mansfield, Massachusetts, for their first official trip without their wives by their side.
Tony, 57, is the leader in both age and experience. He works as a restaurant consultant and describes himself as protective and competitive. Even though his favorite movie of all time is the "Godfather," his tough exterior melts away when it comes to his daughters, who he says are his greatest accomplishment.
Kevin, 31, is married to one of Tony's twin daughters. His successful career in public relations for a high-tech company has honed his diplomatic skills. The father of two is a self-described risk-taker with a love for travel and adventure.
Matt, also 31, works as corporate project manager and is known for his fearlessness and sense of humor. Matt, married to Tony's other twin daughter, is a father of two as well.
David, 26, is the youngest on the team, but the most well-trained. His career as a police officer in Rhode Island is preceded by eight years as an infantryman in the U.S. Marine Corps. He's married to Tony's youngest daughter.
The Race will surely show these in-laws the different sides to each other as they are forced to bond outside the familiar comfort of their family circle.
Family Edition
Edit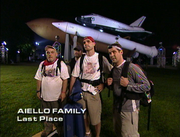 Memorable Moments
Edit
Eliminated from the race because they didn't pull the Roadblock number quick enough to ensure their position.
Franchise
Edit
First family team that are not blood related.
Lowest average placing male team who came in 8th, 7 (tied with Tom & Terry).
One of only two male teams who came in 8th without winning any leg.
Youngest male team to finish in 8th place without winning any leg.
Youngest team to be the oldest team in a season, 36.25
The only family team that are not blood related.
Family Edition
Edit
Oldest team, 36.25
Oldest team who didn't earn a spot in the final three, 36.25
Only male team.
External links
Edit