Adam & Dane
Talk

0
1,002pages on
this wiki
Adam & Dane
Relationship
Cousins
Teammates
Adam Corowa
Dane Corowa


---

Season
Australia 2
Place
11th
Age Average
29.5
Average Placing
10

---
Adam Corowa and Dane Corowa are a team of Cousins on the 2nd season of The Amazing Race Australia.
Biography
Edit
These fun-loving cousins grew up together in Tweed Heads and are determined to make their mark as the first indigenous team in the race.
"I think our indigenous background will definitely help us on the race. You know, the tracking side of things," says Adam, tongue firmly planted in cheek.
"Yep, we never get lost," adds Dane with his distinctive laugh.
The reality is somewhat different.
"Dane's a hopeless navigator. He's always too busy checking himself out in the rear vision mirror. Mr Vain!" says Adam.
Dane, 29, adds, "My goal on the race is to prove to Adam that I can go a full twenty four hours without looking at my reflection."
Growing up these "cuzzies" attended the same school, played footy together and spent a lot of time in the ocean.
They still catch up regularly despite Dane having moved to Brisbane to pursue his career as a cardiac scientist.
Adam says, "Dane wants to analyse everything. He's a taskmaster. I'm more impulsive. But hopefully we'll balance each other out. "
"We're very competitive, down to our bones," adds Dane. "We both realise our strength is we're young and fit. If it comes down to the crunch and we have to do something to push ourselves through, we will race hard to win."
"I have a huge respect for other places and their cultures," says merchant seaman Adam. "For me, my culture runs pretty deep. I still believe in that sort of stuff, the Dreamtime."
The dad to Eva, 6, and Nate, 2, and with a new addition on the way, Adam wants to pass down those traditions to his kids as well.
"That's what my grandfather and uncles taught us so I tend towards that side of my background."
Losing one of their best mates in the Bali bombing brought the boys even closer together and made them appreciate the importance of friends and family.
Dane says, "We're as close as brothers and we want to live every day like it's our last. And that's the approach we're bringing to the race. We're going to try to enjoy every moment."
Australia Season 2
Edit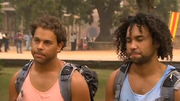 Leg 2: 11th (30-minute penalty, Eliminated)
Memorable Moments
Edit
Eliminated because they sold their personal belongings to a mother and son for money and were issued a 30-minute penalty.
Franchise
Edit
Australia
Edit
External links
Edit